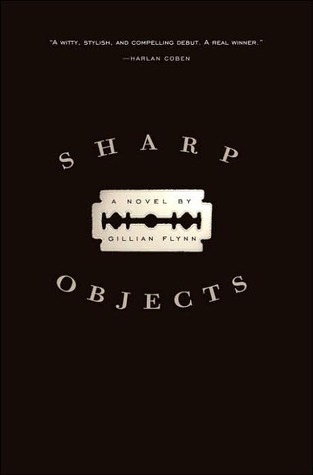 In Gillian Flynn's debut novel (yep that's right debut) she takes the reader to a small town in Missouri where secrets have secrets and you cannot trust even your own family:
Camille Preaker's has always loved words, she was forever writing down conversations trying to remember everything that was said and to her certain words do have power. It should be no shock that Camille decided to become a reporter, but request to cover the murder of two little girls from her home town may be too much to ask. Camille is running from a past full of demons, she left Wind Gap for a reason and only part of it was to save her sanity. Camille tries to stay strong but there are certain aspects of family that never change and in a small town there is nothing but rumors and secrets.

Sometimes going back home can be the most deadly thing of all.
Many people only think of Gone Girl when they see the name Gillian Flynn, but Sharp Objects was actually Flynn's debut novel and what a debut novel it was. Dark, eerie and twisted, Flynn was able to hit the mark on many aspects that I enjoy in a mystery novel. Just when you think you have the small town of Wind Gap figured out there was a new darkness on the horizon that you may not see coming. If you have read Gone Girl you know that Flynn does not shy away from the dark side of human nature and Sharp Objects is exception. Flynn has a great ability to go where very few people are willing to go with her characters and in this case Flynn explores the self harm disorder of cutting.
Camille Preaker was a very interesting main character, mainly due to her cutting disorder and how she copes with it as well as her past haunting her as she returns home. You know as soon as she enters back in to the world she fled all those years ago that it was her situation here that caused her to start cutting. I have never heard of a cutting disorder that was word based, very interesting expression of the disorder that Flynn decided to use as well as the way in which Flynn had Camille cope with it. Camille also has very poor relationship skills with men, her family and really everyone she meets and she uses alcohol to cope in all of these interactions. So I guess you can say Camille is not your typical main character, she is very flawed and basically has only one positive relationship in her life and that is her editor. Though I'll say this is Flynn's fault as she seemed to want to focus more on the psychological aspects of Camille and not the actual murders. There were parts of Camille that annoyed me, I mean she is 30 and I understand that she has had some tough time in her life, plus her disorder, but there does come a time when you should not be pressured to do thing by you 13 year old half sister. I thought that Camille was stronger than that, and did not care what people think of her, but the more a reflect back all of this was really a good front but was never an actuality. The more I look back, the more I realize how complex of a character Camille really was and even more how screwed up she was.
The mystery is really secondary, if you are reading this for the mystery aspect that is presented in the book premise, then you will be disappointed. The mystery comes an goes in the book and it is the main reason for Camille returning to her homes town but other than the people and her mother disapproving of her being there to write a story, there does not seem to much to the mystery aspect and trying to figure it out. Camille really makes a poor reporter in this book as there is not much detecting done by her. and she only does interview when basically forced. Though I'll say this is Flynn's fault as she seemed to want to focus more on the psychological aspects of Camille and not the actual murders.
A dark and disturbing read, which I liked (hmmm what does that say about me...). This book makes me glad that I did not grow up in a small town where everyone knows your business but still has secrets every where and for me this book really looked at some nature vs nurture aspects that I found interesting. It has also been a long time since I was 13 and if 13 year old's are how Flynn describes them in this book, I am truly scared for the future generations.If you like a read that is on the darker side of the human mind, then I think you will enjoy this book. It is not the same as gone girl but that does not mean that it is lacking, it is just different than it and explores totally different dark side of humanity.
Enjoy!!